Take control of your future, and get 3 YEARS of support.
Why we created the program?
There's a major gap in High School Senior support – 408 students to 1 guidance counselor doesn't give seniors enough chance to learn and prepare for college or career life post-graduation. 
Career Readiness Program builds a foundation helping seniors manage the stressors of entering the professional world while empowering them to have confidence and plan towards leveraging their strengths for career and life success.  
High School Senior needs help:
What is Career Readiness?
Career Readiness Program is designed to deliver clarity, resources, support, and engaging content to bolster confidence in post-high-school success. 
The program offers three (3) years of support and covers over 50+ topics on how to make the most out of your future and career. 
One-Time Enrollment
for

THREE years

of support
How was the Career Readiness Program designed?
The Career Readiness Program starts in January of the graduating year because any earlier is overwhelming and counterproductive. Starting halfway through senior year reduced the stress of college applications, job applications, future tensions, test preparations, etc. 
Seniors are busy and overwhelmed worrying about their exams, homework, extracurricular activities, social life, family life, college prep, etc. There is no time to consider a career or future planning. The program takes less than 30 minutes per week, within intentionality. It's designed with actionable steps that foster professional skills and career development.
It's designed to help clarify strengths, plan your career track, empower you to find a great job, quicken your career advancement, prevent you from burnout, and support you for two (2) years after graduation.
In addition to the online content, you can select to participate in additional support by joining group sessions and conducting individual sessions to boost your preparedness. 
LIMITED SEATING: We're only supporting 50 students in total
10 students for PLATINUM Program
15 students for GOLD Program
25 students for SILVER Program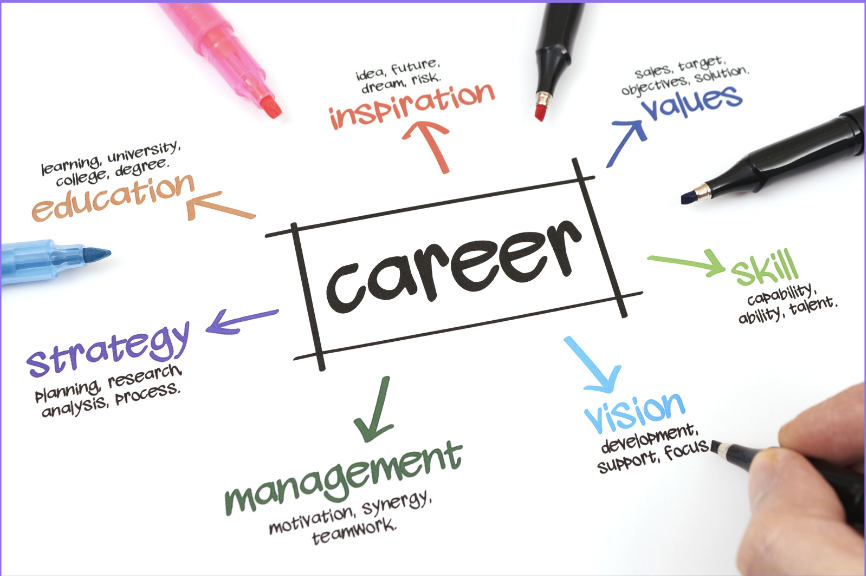 Career Readiness Program Topics
What topics will we cover?
We want you to succeed post-graduation and build your career so you're successful throughout your professional life. Over the next THREE Years, we'll cover 50+ topics and help you jump-start your career, figure out your Career plans, and help you achieve your goals more strategically. Here are a few topics we'll cover: 
Career Direction / Choice

(What to do)

Resume and Cover Letter Development

Stress Management 

Work-Life Balance 

(Have a life and career)

Job / Internship Search Strategies

Interview Preparation

Salary Negotiation

Professional Skills 

(Getting promotions)

Networking Techniques

People Management

(Office politics)

Leadership Development

Workplace Communication Skills

Career Planning

And many more. . .
Registration closes in. . .
Seats are limited:

SILVER Program – 25 students
GOLD Program – 15 students
PLATINUM Program – 10 students
SILVER

Career Readiness Program
THREE Years of Support
$
197
One-Time Enrollment Fee
Self-Paced Career Training

THREE (3) Years of Email Support

ONE (1) Resume/LinkedIn Review
GOLD

Career Readiness Program
THREE Years of Support
$
497
One-Time Enrollment Fee
Self-Paced Career Training

SIX (6) Group Coaching Sessions

THREE (3) Years of Email Support

TWO (2) Resume/LinkedIn Reviews
PLATINUM

Career Readiness Program
THREE Years of Support
$
1297
One-Time Enrollment Fee
Self-Pace Career Training

SIX (6) Group Coaching Sessions

FIVE (5) years of email support

THREE (3) Individualized Coaching

TWO (2) Resume/LinkedIn Editing

Career Discovery Assessment
Sim Khandaker, M.A.
Coach / CEO
ABOUT ME:
I started my college journey in engineering and felt bored and not challenged. So, I changed my major 5x times until I figured out what I wanted. It took me a while because I didn't have anyone to turn to for guidance in showing my a career path that aligned with me.

Yet, I finished my Bachelor's in Psychology and became a Financial Analyst for Fortune 500 company, then completed Neuro-cognitive research in Australia, and returned to become a Market Analyst for another Fortune 500 company, then completed my Master's in Counseling.
I've helped individuals in Technology, Health Care, Business, Leadership, C-Suite, Career Changers, etc. Many of them told me, "I wish I knew [earlier]… " After 10+ years helping mid to senior professionals, I'm opening up this opportunity to help you as you emerge into the professional world so you make better decisions and find career satisfaction faster and become successful sooner.
Please take 5 minutes to complete the registration form. If you have any questions, please email me or include your questions in the registration form, and I will answer them ASAP.